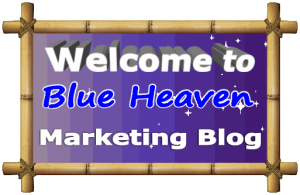 We christened our Blog as Blue Heaven Marketing Blog.   We're very much excited about launching of this blog as it coincides with relaunching of our website www.webpromotionservices.net/. We first launched our website in the year 2006 and relaunched it in the year 2014. These two websites were non-responsive and in 2016 we relaunched again our fully responsive, mobile friendly website which is based on BDPS (Business Designing & Promoting System) methodology.
Communication will be effective only when it's a two way process. We wanted to communicate with people who visit our website; We wanted to know their thoughts, opinions, and also want to share our thoughts with them. That is how the idea of Blue Heaven Marketing Blog conceptualised.   As we are solution providers for Marketing, Promotion and Advertising having nearly 30 years of industry experience we feel we have to share many things with our website visitors.  You will get latest news on Marketing, Promotion and advertising. We will be analyzing campaigns pertaining to advertising, promotion, marketing and PR currently running or already executed by us and various other businesses. We'll describe tools that seem particularly relevant and practical, along with how to be successful using them. We will cover old as well as newage Marketing strategies and tactics. We will see what works and what not.
We hope you'll visit our site regularly and offer your comments and participate in the discussion. During this process we are sure that we all will get knowledge and exposure to various subjects and grow. When we apply the information shared on this platform in our businesses, we are sure that our businesses will grow by leaps and bounds. Thus all of us will be benefited from this platform.
In this Blog, apart from writers of Blue Heaven Advertising & Marketing, many industry veterans will impart their knowledge and share opinions & experiences on subjects related to Marketing, Promotion and Advertising. Though we will cover all industries, currently we will be more focused on Pharmaceutical and allied Industries.
A few points to remember:
We love the Democratic nature of the web. We welcome your thoughts, comments, suggestions, and questions. When you leave comments, please make sure that they are focused on the subject under discussion. Abusive, vulgar, or irreverent language, racial and ethnic slurs, and rude behavior won't be tolerated and we will quickly remove any comments that are offensive, disrespectful or irrelevant.
Since this is a public forum please don't post any private information.
The comments containing pure promotion will be deleted quickly. We will give you some other space for this purpose.
When the articles are written by outside bloggers, the reply for your comments may take long as the writers are engaged with other responsibilities.
While reading an article please remember that the opinions expressed in that article are the personal views of the individual writer and not necessarily those of the Company.
Kindly note that this is not the place to submit specific customer service questions or sales inquiries. For specific customer issues,  please use Contact Us form.Thank you for visiting, reading, commenting and joining!

Sebastian Lobo
and The Blue Heaven Advertising & Marketing Team
Welcome to the Blog of Blue Heaven Advertising & Marketing!